ABOUT US
Kyra Panagia Hotel offers twenty two (22) Studios capable to accommodate up to 3 guests and twelve (12) Apartments capable to to accommodate up to 4 guests.
We provide luxury services in insuperable and peaceful environment. In addition to all amenities, our guests can always use our lounge area for reading, writing, relaxing with friends, or simply soaking up the culture of this unique island paradise. Our Lounge Bar serves special drinks and cocktails, and our outdoors Snack Bar right next to our spacious and safe Swimming Pool will be ideal for delicious snacks, soft drinks and refreshments of all kind.
Our balconies and verandas overlook the spactacular Kyra Panagia beach and church, the Aegean sea and one of Karpathos most glorious sunset.As a traditional establishment, our Hotell blends the heritage and love for Karpathos island with a component of luxury to yield rich memories and unforgettable holidays.
The beautiful sandy beach lies in a small cove right between the mountains and has a mixture of white sand and smooth pebbles as well as crystal clear waters.
You will find Kyra Panagia located 14 km north of the capital of Karpathos Pigadia. The area and the beach is considered to be amongst the best locations for holidays in Karpathos.
The area offers an unbelievable swimming experience. The guest can also find tavernas, sunbeds and umbrellas. You can reach Kyra Panagia by car, motorbike or within guided boat tours directly from the main port of Pigadia.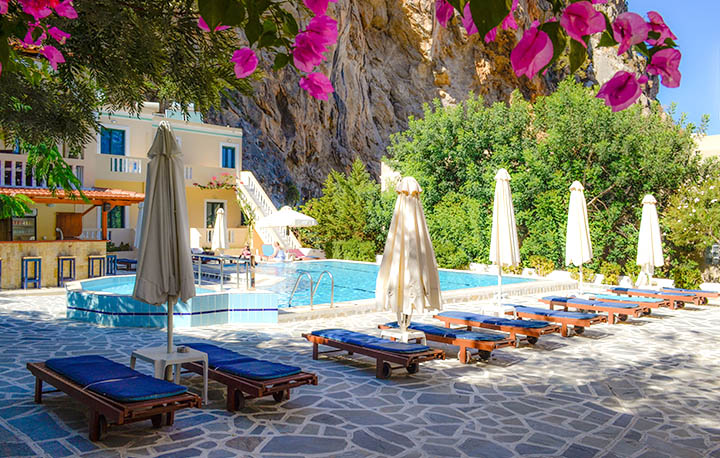 ADDITIONAL SERVICES
16 hours open reception (daily) with a 24 hours phone access (internal or external). Express check out service. Early breakfast service. Breakfast duration over 3 hours (07:30 a.m. - 10:30 a.m.). Possibility of serving breakfast in your room.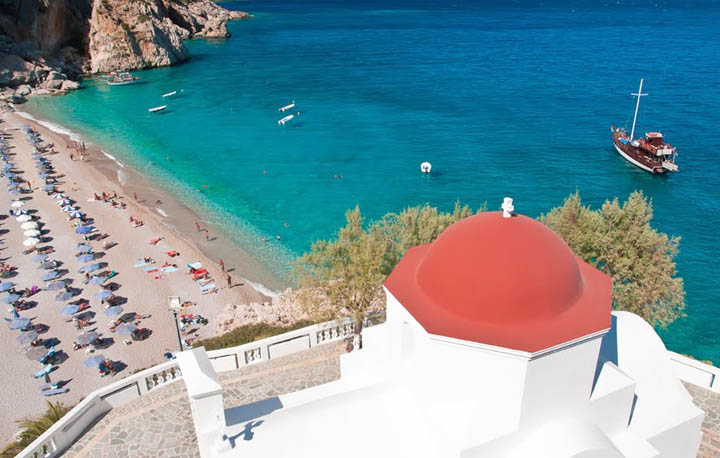 THE TRADITION
Tradition says that the church was build by a ship's captain, survived from a shipwreck, showing his gratefulness for the lucky escape.
EXCELLENT AND FRIENDLY
Our staff is friendly, helpful, well informed and trained to meet instantly your needs. Reservations, recommendations, travel arrangements and currency exchange can all be handled throught the reception.
LOCATION

ON THE ROAD
Going down the road to Kyra Panagia you will find spring water at Katodio, then you will finally arrive at the small bay of Kyra Panagia.

Surrounded by steep cliffs where a small church of the second half of the 18th century, dedicated to Madonna, drops straight on to the beach.

The church close to the seashore will cost you some extra film. It is one of the beaches that we most often see in photographs. It is a long beach of abudant sand and emerald waters. Its distinctive characteristic is the vertical cliffs surrounding it.